Programs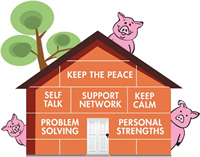 The Resourceful Adolescent Program (RAP) was developed to build resilience and promote positive mental health in teenagers. The program specifically aims to prevent teenage depression and related difficulties.
Approximately one in five teenagers will develop depression during the course of their teenage years which could severely hamper their development and future prospects.
RAP aims to increase the psychological resilience or resourcefulness of young people and draws on research of successful treatments for adolescent depression and the known psychosocial risk and protective factors at the individual, family and school level.
Components
The Resourceful Adolescent Program consists of three components that promote the individual, family and school protective factors respectively:
RAP-A for adolescents - school-based program for 12 to 15 year olds that aims to improve the coping skills of teenagers
RAP-P for parents - targets family protective factors such as increasing harmony and preventing conflict
RAP-T for teachers - aims at assisting teachers to promote school connectedness, a protective factor that has recently been shown to be very important in teenage mental health
(RAP-A and RAP-P also have adaptations that meet the specific needs of indigenous communities).
The three components of the Resourceful Adolescent Programs are primarily run as universal prevention programs. They are designed to be useful to all teenagers, and not only those specifically at risk for depression. The programs aim to prevent the development of future problems by promoting a range of protective factors. The three components of the program can be run independently or together.
Who & where

The RAP programs are based at the School of Psychology and Counselling at Queensland University of Technology, Australia. The RAP Director is Professor Ian Shochet, School of Psychology and Counselling at Queensland University of Technology. The programs have been shown to be effective in building resilience to prevent depression.
Evidence of effectiveness
Beginning with a pilot program in 1996, RAP has been the subject of systematic evaluation and is endorsed as an evidence based program by the Commonwealth Government. Grants from the Queensland Health Promotion Council, the Commonwealth Department of Health and Human Services, NH&MRC and the ARC have enabled on-going development and evaluation of the program. Results of published randomised controlled trials have indicated that the RAP program prevents future depressive symptoms in adolescents and is significantly better than a placebo control. RAP research has been published in top tier journals and psychology textbooks. (see the Research section for a list of RAP publications.)
Today the RAP Programs continue to be researched to assess their effectiveness, as well as to explore alternative delivery formats and settings, and the optimal age to implement prevention programs for depression.
For more information about RAP research, please click here
Development & dissemination

Since its development in 1996, RAP has become widely used throughout Australia with approximately 7,000 people representing over 3000 schools and health and community organisations trained to facilitate the program. RAP-A has been successfully introduced in several other countries. RAP-A or local language translations have been presented in schools in Australia, Canada, China, England, Fiji, Germany, Holland, Hong Kong, Ireland, Japan, Mauritius, Mexico, Morocco, N. Ireland, New Zealand, Papua New Guinea, Scotland, Serbia, Singapore, South Africa, South Korea, Sweden, Switzerland, Tanzania, Thailand, Turkey, USA, Vietnam and Zimbabwe. An indicated Dutch trial for depressed or anxious adolescents showed significant positive effects on anxiety, depression and self-efficacy (Muris et al., 2001). A Supplement for adapting RAP-A for use with Indigenous Australian adolescents and a RAP-A for adolescents on the autism spectrum has also been developed. The RAP Programs have also been adapted for adult populations in the workplace (PAR), high risk workplaces such as police (pro) and mental health nurses (PRIN and indigenous job seekers (Horizon).